TUCF Genomics introduces Next-Gen DNA Sequencing
We are now open! ATTENTION: Dear TUCF Genomics Core Customer, we are glad to announce that have resumed our operation at close to full capacity with shifted schedule. Due to the schedule change, the timing of our email response may be slightly delayed. We also ask that if possible if you are dropping off samples that you schedule the drop off between 9AM and 1PM via email as the University is still restricting visitors into the building. The drop off location would be at the front of 136 Harrison Ave. Please call us on your arrival and someone will meet you at the front of the building. Moving forward, an alternative operation procedure has been established for our Genomics Core that will enable us to continue our operation through future ramp-down as a result of COVID-19.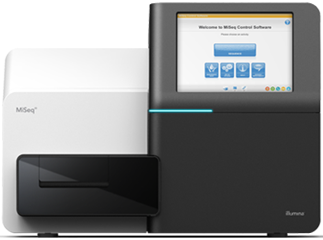 Also known as High-Output DNA Sequencing or Deep Sequencing. The MiSeq & HiSeq 2500 systems can generate highly accurate results in under a week for discoveries in genomics, epigenomics, gene expression analysis, and protein-nucleic acid interactions.
Speed & Simplicity for Targeted & Small Genomes
The MiSeq desktop sequencer allows you to access more focused applications such as targeted gene sequencing, metagenomics, small genome sequencing, targeted gene expression, amplicon sequencing, and HLA typing. New MiSeq reagents enable up to 15 Gb of output with 25 M sequencing reads and 2x300 bp read lengths.
Power & Efficiency for Large-Scale Genomics
The HiSeq 2500 System is a powerful and efficient ultra-high-throughput sequencing system that supports the broadest range of applications and study sizes. Unrivaled data quality using Illumina's proven SBS chemistry has made the HiSeq 2500 the instrument of choice for all major genome centers and leading institutions throughout the world.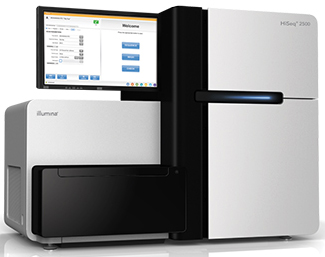 Currently we offer either 50, 100 or 150 nucleotide single or paired-end (50x2, 100x2, 150x2) reads. All sequence data, including reads mapped to a reference genome, will be available for download from our FTP site. Sequence data is archived on our server for one year. Additional bioinformatics support is available free to all Tufts users. We also offer bioinformatics consultations and support to outside institutions on a per-case basis.
Applications include:
Whole Genome Sequencing
De Novo Sequencing, Resequencing
Deep Sequencing of Microbiomes
Chromatin IP analysis (ChIP-Seq)
Transcriptome Analysis (RNA-Seq)
Small RNA Identification and Quantitation
DNA Methylation analysis
Metagenomics
All samples will be entered into a queue on receipt, and then scheduled for the next available run. At current levels, your samples will be run within 2-3 weeks. Once your run has started, turnaround time will be about a week.