Illumina MiSeq Services
Overview of Instrument
As the only personal sequencer capable of producing paired-end reads, the MiSeq system puts the largest portfolio of sequencing applications at your fingertips. Optimized sample preparation kits, push-button sequencing, and automated data analysis, create the first truly end-to-end sequencing solution.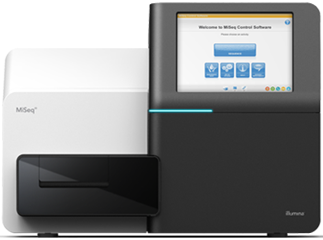 MiSeq is the only desktop sequencer that can produce 2 x 300 paired-end reads in a single run. This allows small genome sequencing and assembly, and enables detection of target variants with unmatched accuracy, especially within homopolymer regions. Now, even more samples can be processed in less time while generating more reads per run than any previous versions. All of this can be achieved using the targeted gene and small genome sequencer with the shortest sample-to-data workflow.
With MiSeq, you can:
Access the world's most widely-published and accurate sequencing chemistry, backed by > 4,800 peer-reviewed publications
Multiplex up to 384 samples per run for greater efficiency
Get accurate bi-directional amplicon sequencing
Generate more complete de novo assemblies
Please click here for more in-depth information on the MiSeq.
Sequencing Service Charge (Pricing is current and up to date - February 2021)
MiSeq, PER RUN ***
Tufts
TMC & External Institutions
Standard V2 50 cycles
(e.g. SE50, PE25)
$900.00
$1,075.00
Standard V2 300 cycles
(e.g. SE100, 150, 200, 250, 300, PE100, PE150)
$1,300.00
$1,525.00
Standard V2 500 cycles
(e.g. PE200, PE250)
$1,400
$1,600
Standard V3 150 cycles
$1,200
$1,425
Standard V3 600 cycles
(e.g. PE300)
$1,700
$2,100
Micro 300 cycles
$1,175.00
$1,400.00
Nano 300 cycles
$500.00
$600.00
Nano 500 cycles
$600.00
$700.00
Nano Sample Check / QC
(Only available when submitted along with higher output run)
$300.00
$345.00
*** Please specific the run type (SE vs PE) and run length (bases) when place an order for MiSeq.

Bioinformatics and Data Analysis Services
Please click here for more information.
Data Distribution
FTP Data Folder: RunDate-RunNumber_CustomerName